Hardware features of the nPM1300
The nPM1300 has a USB Type-C compliant linear charger with an adjustable charging current of up to 800 mA, configurable automatic thermal regulation, and an input voltage range of 4.0 to 5.5 V. The user can adjust the charging termination voltage between 3.5 V and 4.45 V, and the charger is compatible with Li-ion/Li-Polymer/LiFePO4 battery chemistries. It supports JEITA compliant battery thermal protection and dynamic power path management, which allows the device to optimize the charging path based on the application's power requirements.
The nPM1300 also features two highly efficient 200 mA buck converters, for step-down regulation of the battery or USB input voltage. The start-up output voltage is pin selectable and digitally runtime adjustable from 1.0 to 3.3 V, with the option for forced or automatic PFM (Pulse Frequency Modulation) and PWM (Pulse Width Modulation) mode selection for minimum noise and maximum efficiency. The PMIC has two 100 mA load switches that can be configured to act as LDO's (Low Dropout Regulators), delivering 1.2 - 3.3 V at up to 50 mA each. A 10-bit ADC (Analog-to-Digital Converter) is provided for system monitoring, and can be used to measure the battery voltage, battery temperature, die temperature, and charging and discharge currents.
The device also features three SW controlled or automatic LED drivers. Other features include ship and hibernate modes with pin-, timer-, and USB wake-up options, and a watchdog timer with the option for either reset or power cycling. The PMIC also has power fail warning, recovery from failed boot-up, and a long press to hard reset feature for one or two buttons. A Nordic Semiconductor host SoC may also take advantage of the hardware hooks set in place for battery fuel gauging. The nPM1300 is available in QFN 5 mm x 5 mm and WLCSP 3.1 mm x 2.4 mm package options.
Nordic Semiconductor announces multi-function Power Management IC (PMIC) with unique system management features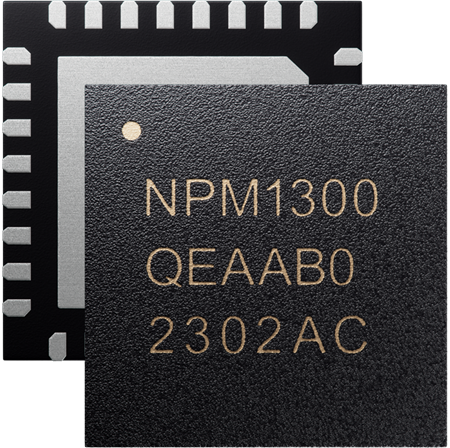 The latest addition to Nordic's PMIC portfolio, the nPM1300 PMIC simplifies system design by integrating essential functions required for Bluetooth Low Energy embedded designs, while supporting longer run times and efficient battery charging
Nordic Semiconductor today announces its plan to release a third Power Management IC (PMIC) in mid-2023 to expand its PMIC portfolio. The nPM1300 expands the company'sPMIC offering by adding support for charging of larger batteries and support for four regulated power rails. The nPM1300 will be optimized for efficiency and compact size (3.1 x 2.4 mm WL-CSP or 5 x 5 mm QFN) and is digitally configurable through an I2C-compatible Two Wire Interface (TWI). The digital interface provides access to several system management functions that are usually implemented as discrete functions in Bluetooth® Low Energy (LE) embedded designs - such as hard reset, battery fuel gauge, system-level watchdog, power loss warning, and recovery from failed boot.