The nRF21540 development kit (DK) contains the nRF21540 RF FEM and has two antennas with SWF ports for direct RF measurements. The dual antennas can be used in an antenna diversity scenario with for instance Thread or Zigbee (802.15.4) protocols to reduce multipath fading effects. The RF FEM is connected to and controlled by the nRF52840, an advanced multiprotocol Bluetooth® 5.2 SoC that supports Bluetooth® LE, mesh networking protocols such as Bluetooth® mesh, Thread and Zigbee, as well as 2.4 GHz proprietary protocols.
Sharing many similarities with the nRF52840 DK, the nRF21540 DK contains an onboard Segger J-LINK debugger accessible through USB, user-programmable LEDs and buttons, an NFC antenna connector and current measurement pins. It is the perfect tool to enable real application performance testing with the extended range offered by the nRF21540 RF FEM.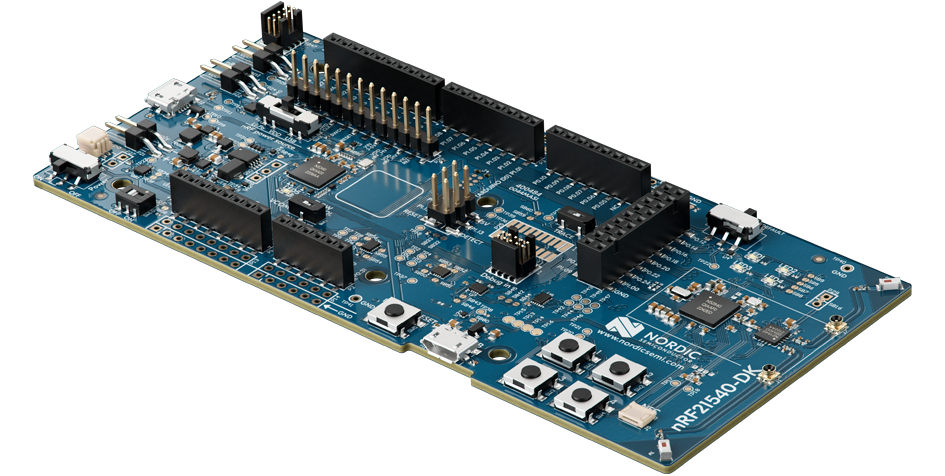 On the nRF21540 evaluation kit (EK) the nRF21540 RF FEM connects to lab equipment or radio via an SMA connector. The nRF21540's gain control, antenna switching, and modes are controlled via GPIO or SPI or a combination of both, accessible through the Arduino Uno Rev3 compatible headers. The nRF21540 EK also features two additional SMA connectors hooked to the dual antenna ports, to monitor the performance of the RF FEM using any equipment desired.