Our nRF9160 SiP, which has support for LTE-M, NB-IoT, GPS and Assisted GPS (A-GPS), is supported in SW by Nordic's nRF Connect SDK. The nRF9160 SiP has two processors: an application processor and a modem processor. The nRF Connect SDK based application runs on the application processor, while a modem binary file runs on the modem processor.
The nRF Connect SDK supports numerous protocols, including but not limited to CoAP, MQTT, HTTP and LwM2M.
The modem processor takes care of the lower level LTE communication, including the LTE L1/L2/L3 protocol stack, in addition to IPv4/IPv6, TCP/UDP and TLS/DTLS layers.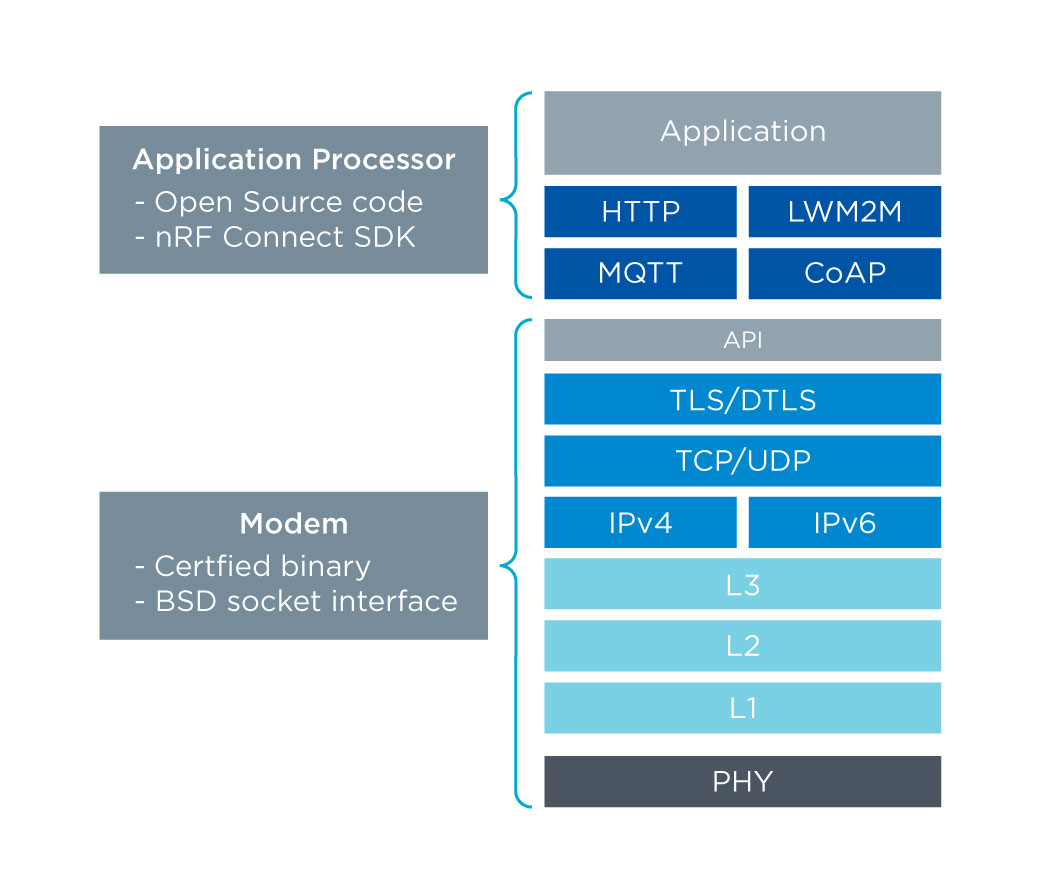 Our cellular SW contains a balance between open-source code and code designed, developed and rigorously tested in-house. This means we are able to provide the best of both worlds: open-source when collaboration provides the best solution and Nordic tailored SW for other applications. By developing in-house, we have full control of the features we provide and can quickly update the code when needed.
By providing the modem FW as a rigorously tested pre-compiled binary, there is no need to worry about the lower layers of the LTE stack. This allows developers more time to focus on their application development.
A-GPS is a feature that helps speed up time to first GPS fix, thereby helping asset tracking applications save even more current. Instead of downloading the ephemeris and almanac data via satellite (50 bits/s), this data can be downloaded from an A-GPS server via an LTE-M (~360 kbps) base station. From a cold start, time to first fix can be decreased from 40 seconds without A-GPS to less than 10 seconds with A-GPS.