Explore the new features of LE Audio
LE Audio not only comes with better audio quality and longer playtime but it also introduces new features and opportunities.
Multi-Stream Audio

Multi-Stream Audio allows for multiple audio streams between an audio source and different sinks. These streams can be highly synchronized to ~10µs. Coordinated device sets can be created where multiple devices are treated as one device. This allows for example truly wireless earbuds to be connected to an audio source with no need to use one of the earbuds to relay the data.

Isochronous channels

LE Audio was developed with isochronous channels as a design requirement. Some applications were hard to implement with Classic Audio, like truly wireless earbuds. Those are typically designed to relay the information from the source to one earbud. The stereo stream will be split into mono and transmitted from one earbud to the next. In many cases, this led to higher latency and ever higher power consumption. What is hard to implement with Classic Audio is built into LE Audio from the start. LE Audio brings a huge improvement to this and similar use-cases.

Auracast™ - Broadcast and Sharing

Auracast™

LE Audio will add broadcast audio, enabling an audio source device to broadcast one or more audio streams to an unlimited number of audio sink devices. Broadcast audio opens significant new opportunities for innovation, including the enablement of a powerful new capability, Auracast™ broadcast audio. Auracast™ broadcast audio is the new consumer brand that has replaced Audio Sharing.


Personal Audio Sharing
Broadcast Audio allows for one or multiple audio streams to be broadcast to an unlimited number of devices. It enables applications like Personal Audio Sharing where a user can share their audio stream, for example from a phone or tablet, with other user's headphones in the vicinity.

Location-based Audio Sharing
On a bigger scale Location-based Audio Sharing can be used. Example applications include a cinema where visitors can watch the same movie with different languages enabled on their headphones. It can be used in a gym with multiple TVs to select the audio from the channel that you want to watch. Further examples are be airports, conferences, museums etc.

Low Complexity Communication Codec (LC3)

The SBC, Low Complexity Subband Codec, that is used in Classic Audio as a well-established Codec works well but is quite old. The new LC3 uses about half the data for even higher perceived audio quality. The low complexity of the Codec leads to low latency and minimal storage requirements. It's possible to reduce the bitrate even lower without losing much perceived audio quality. The LC3 will also be available at a later date as an optional Codec for Bluetooth Classic Audio.
Introduction to Bluetooth LE Audio
Join us and learn more about LE Audio, how it was developed, what features and advancements it will bring to the wireless audio market, and what Nordic has to offer you in developing your Bluetooth LE Audio products and prototypes!
The introduction of Bluetooth in hearing aids in 2014 was one of the biggest advancements in hearing aids.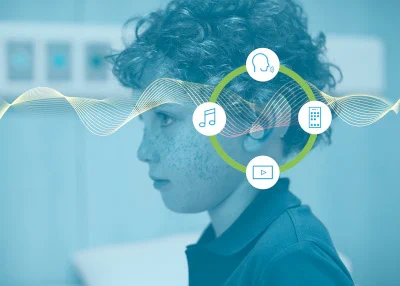 Bluetooth classic allowed users of hearing aids to stream a Bluetooth Audio signal from a device like a smartphone or a tablet directly to their hearing aids. Despite the incredible benefits, this gives to users, actively using Bluetooth on hearing aids drastically reduces the battery life of those devices.
In the development of Bluetooth LE Audio the Bluetooth SIG worked closely with the hearing aid industry. LE Audio cuts the power consumption in half while improving the perceived audio quality. This in addition to the new features like being able to connect multiple devices to one set of hearing aids makes Bluetooth LE Audio another giant advancement in the hearing aids industry.