Why Matter?
Matter aims to make it easy for developers to create a secure and reliable solution. If you want your products to be interoperable with the major smart home ecosystems, Matter is the way to go.
Supporters
Matter, which began as Project CHIP (Connected Home over IP) started in December 2019. The starting companies were Amazon, Apple, Google, and others including Nordic Semiconductor. The goal is to agree on a unified application layer standard for connected things at home. Matter aims to make it easy for manufacturers to create secure and reliable solutions. These solutions will be interoperable with the major smart home ecosystems like Apple's Siri, Google's Assistant, and Amazon's Alexa.
Communication
Matter is using Thread, Wi-Fi, and Ethernet for transport and Bluetooth LE for commissioning. All Matter devices based on Thread are required to feature Bluetooth LE concurrently to enable adding new devices to a network. Wi-Fi can be used for high bandwidth applications. It can be used for devices in range of the local Wi-Fi. Thread is an IPv6-based mesh protocol that targets low bandwidth applications. It is the go-to option for battery-powered devices that require the best energy efficiency and for simple actuators like smart plugs or light bulbs. Most mains-connected Thread devices work as a Thread router and will expand the network's range. Thread is a self-healing low-power mesh that can adapt to new devices or to devices being removed from the network.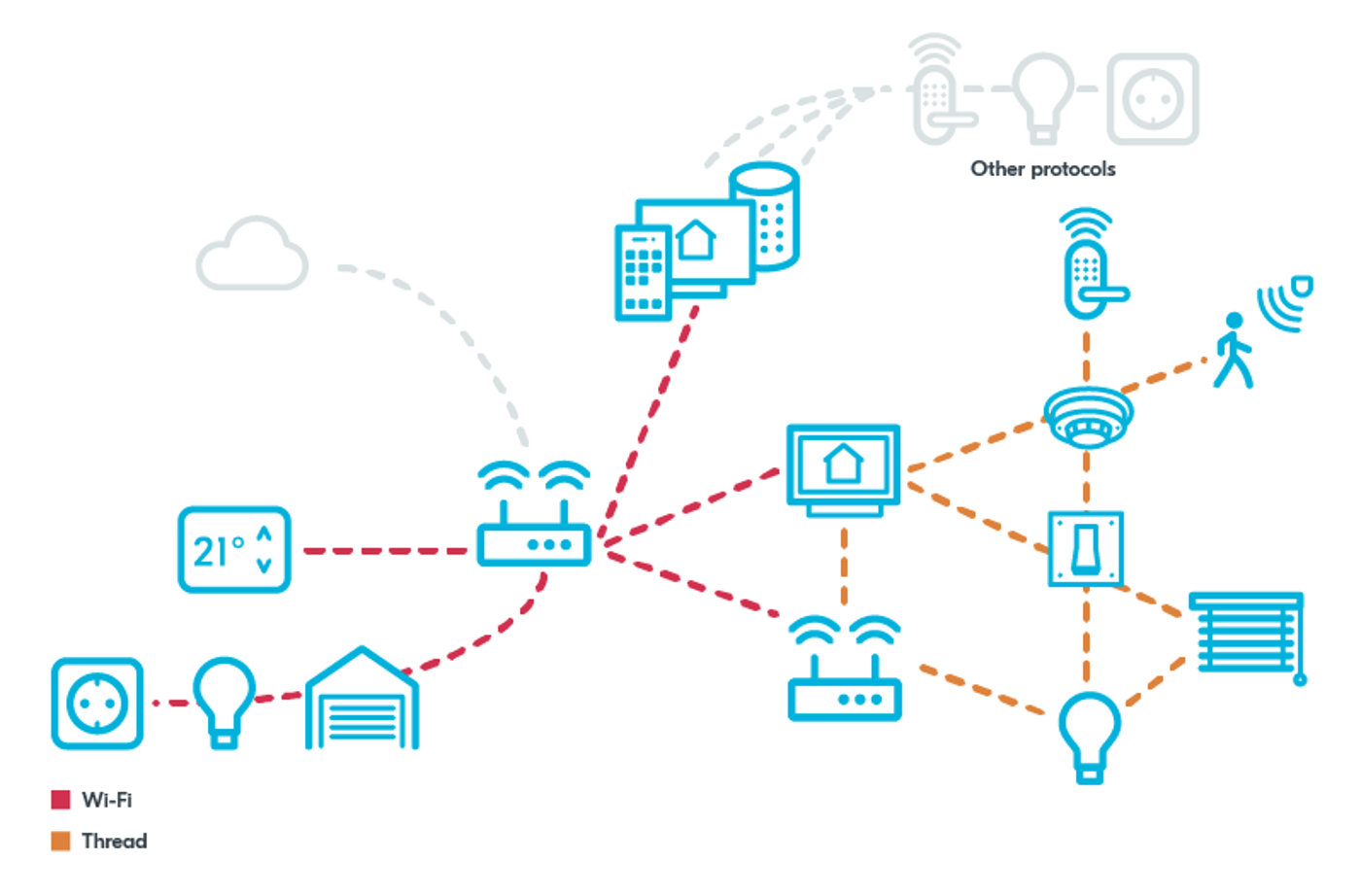 Nordic's involvement
Nordic is actively involved and one of the main contributors the development of Matter. We are the first company to receive a Thread 1.3 certification badge. This badge can be inherited by our customers for their Thread products and is a prerequisite for Matter over Thread. We are also a main contributor to the OpenThread stack and . This combined with our knowledge and experience in Bluetooth Low Energy makes us the ideal partner to start developing your applications.