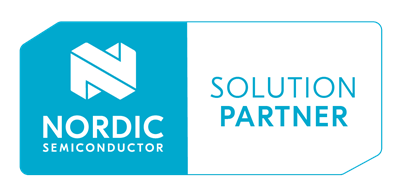 Nordic Solution Partners are companies that have joined the Nordic Partner Program or have specific partnership agreement with Nordic and are therefore qualified to be listed in Nordic website. Nordic Solution partners can offer solutions (components, systems, platforms, services etc) in relation to Nordic technologies, that can be integrated/used by other Nordic customers into an end product/solution. Partners can offer solutions:
Partners are divided in several categories, depending on their main offering in relation to Nordic products:
• Bluetooth Positioning systems
• Cloud, Device Management, ML/AI & Debugging
• Cellular Antenna
• Cellular Locations Services
• Cellular e2e solution providers
• Cellular Connectivity Partners
• 3rd party beacons
Check each partner page to explore its unique offering: you can also get contact details and exclusive whitepaper. Some Solution partners can be Design Partners as well.
There are many different partners, each one is unique, based on locations, size of company, competences, etc.
When choosing the right design partner, it is important for you to understand what you need and clarify requirements and expectations with the partner you are considering. For example: some design partners offer turn-key services, while others focus on specific ones; some design partners may not keep ownership of the solutions, while others can offer a complete solution and keep ownership of it.
If you do not know which partner can meet your needs or simply if you need some indications from Nordic, please contact Nordic Sales team here and we will be happy to give additional directions.
Disclaimer
Nordic has put in place qualification processes to on-board partners. Despite this, many aspects are outside Nordic's control.
When selecting a partner for your project, it is mandatory for you to carry out your own assessment of the partner (from all points of view, including business and technical aspects), to clarify requirements/expectations and all the other important aspects on which a solid relationship is built on.
List of Solution Partners
Partners are listed by solution category. Some partners may offer additional services/solutions, beyond the category they belong to. See each partner page for details.
Bluetooth Positioning Systems
These are Direction Finding solutions/building blocks based on Bluetooth 5.1 AoA/AoD or based on proprietary implementations using Bluetooth LE.
| Partner, HQ | Service regions | Company Introduction |
| --- | --- | --- |
| BlueIoT, China | Worldwide | BlueIoT is a leading provider of Bluetooth AoA Solutions, offering RTLS based on Bluetooth with an accuracy level down to 10cm. [continue reading] |
| IOSEA Inc., USA | Worldwide | We are a technology start-up innovating in the space of direction finding and positioning systems. We provide end-to-end real-time location solutions by using Bluetooth radios. [continue reading] |
| u-blox, Switzerland | Worldwide | u-blox is a global technology leader in positioning and wireless communication in automotive, industrial, and consumer markets [continue reading] |
Cloud, Device Management, ML/AI & Debugging
These partners offer enhanced cloud services in combination with client libraries running on Nordic SoC (nRF Connect SDK).
Note: other Nordic partners with Cloud & DM offering are: A1 Digital, Grandcentrix, Telenor
| Partner, HQ | Service regions | Company Introduction |
| --- | --- | --- |
| AVSystem, Poland | Worldwide | AVSystem automates process of IoT Device Lifecycle Management and helps companies to develop ecosystems of connected devices [continue reading] |
| Edge Impulse, USA (CA) | Worldwide | Edge Impulse is the leading development platform for machine learning on edge devices, free for developers and trusted by enterprises [continue reading] |
| Golioth, USA (CA) | Worldwide | Quickly connect Nordic components to the web with the Golioth IoT data platform [continue reading] |
| Memfault, USA | Worldwide | Memfault is the first cloud-based observability platform purpose-built for IoT devices that brings the flexibility, speed, and innovation of software development to hardware development. [continue reading] |
Cellular Antenna
These partners offer Cellular Antenna solutions and provide dedicated documentation and getting-started guides when used in combination with Nordic cellular components (e.g. nRF9160)
Partner, HQ
Service regions
Company Introduction

Ignion, Spain

Worldwide
Ignion is reshaping the world's IoT connectivity. A global antenna innovator with proven manufacturing capabilities to scale and create the new generation of multiband, multipurpose and ready-to-use, chip antennas. [continue reading]

KYOCERA AVX, USA (SC)

Worldwide
KYOCERA AVX is a leading global manufacturer of advanced electronic components, including antennas and RF chipsets, engineered to accelerate technological innovation and build a better future. [continue reading]
Taoglas

, Ireland

Worldwide
Taoglas is a leading enabler of digital transformation using IoT. We help OEMs and enterprises with everything from initial strategy definition, to design, build, deploy and managed services. [continue reading]

Cellular e2e Solution Providers
These partners offer e2e solutions, combining Cellular connectivity, (e)SIM, Data plans, Cloud, Device Management, Consultancy services (System architecture, HW/SW development, etc.)
Partner, HQ
Service regions
Company Introduction
A1 Digital, Austria
Austria, Germany, Switzerland
A1 Digital is a part of A1 Telekom Austria Group, leading provider of digital services and communications solutions in Central and Eastern Europe. [continue reading]
grandcentrix, Germany

Worldwide
Grandcentrix is IoT Solution Provider for Smart Products, Internet of Things, Smart Home and Smart Energy. [continue reading]

Telenor ASA, Norway

EMEA
Telenor is an Global Premium connectivity and IOT Platform provider
Our local and global experience makes Telenor one of the leading Telco`s in the world. [continue reading]
Cellular Connectivity Partners
As an alternative to the Cellular e2e Solution Providers, visit this page to see the Nordic Connectivity Partners that offer (e)SIM and data plan to get connected.
3rd party beacons
Visit this page for a list of 3rd party beacons running on Nordic SoC