Revolutionary Cellular Solution: Unparalleled Power Efficiency
When it comes to creating exceptional cellular IoT products, low power consumption is an indispensable factor. Leveraging our extensive expertise and experience in crafting award-winning ultra-low power devices, we have engineered the nRF91 Series from the ground up to be the most power-efficient complete cellular solution available in the market today.
Power Optimization for All Network Conditions
Given that power consumption in cellular devices heavily relies on network parameters, we've meticulously optimized the nRF91 Series to excel across all conditions. Thanks to our relentless efforts in enhancing modem firmware features and updates in nRF Connect SDK, our solution achieves unparalleled power efficiency, ensuring optimal performance regardless of the network environment.
Unlocking New Possibilities
The nRF91 Series isn't just about exceptional battery life; it opens up a world of possibilities for small-scale products that can rely solely on energy harvesting. With our groundbreaking technology, you can now deploy and forget, confidently creating compact devices that operate seamlessly through energy harvesting alone creating a more sustainable future for our planet.
Cellular is complex
nRF91 Series makes it easy
Optimized for Total Average Current Consumption: Beyond PSM Floor Currents
When evaluating cellular solutions, it is vital not to solely rely on a few specification points. In the case of Power Saving Mode (PSM) floor currents, drawing conclusions based on this metric alone can lead to erroneous assessments of a device's power efficiency. To accurately gauge the overall average current consumption of your device, it is essential to consider other crucial factors, such as the "wake-up current".
Let's compare nRF9160 SiP with 2.7µA PSM floor current vs. Module X with 1.8µA PSM floor current: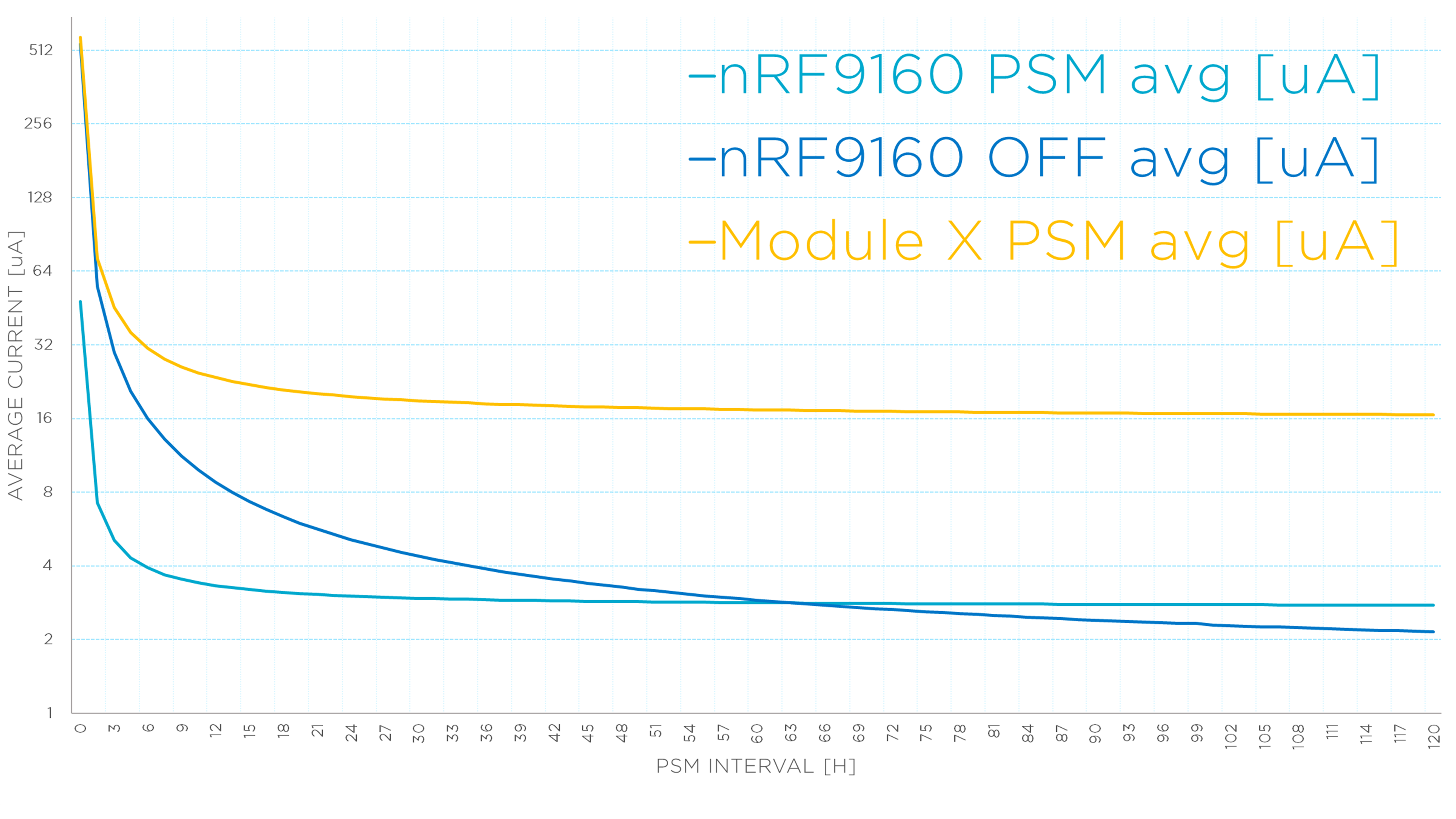 *Calculations with comparable external MCU for Module X with sleep current at 14µA (with RAM retention).
This graph compares the average current of Module X PSM, nRF9160 PSM, and nRF9160 turning OFF the modem (instead of going into PSM) and waking up every n hour to send some data. Even if Module X has a PSM floor current of almost 1µA below nRF9160, it will never be as power-efficient as nRF9160 for the PSM cycles. Furthermore if turning OFF the nRF9160 modem in between sending data the nRF9160 is the most power-efficient in these long sleep cycles (over 60hours). This is because the nRF9160 is built from the ground up to be ultra-low power in mind. In addition, we constantly improve with new firmware updates.
Since most networks require the device to connect in a specific interval to do a Tracking Area Update (TAU) while in PSM (e.g. TAU each 3rd hour), a device would seldom reach days of PSM sleep anyway. The network is in control and the nRF91 Series are the only devices that are made with that in mind.
Unique Modem Firmware Features Solving Real IoT Challenges
At Nordic Semiconductor, we are dedicated to pushing the boundaries of ultra-low power in all our devices. We continuously enhance our firmware with innovative features that focus on optimizing performance, minimizing power consumption, and addressing specific challenges faced by cellular IoT applications. Our modem incorporates a range of advanced features designed to elevate the performance of your end applications. Here are a few examples of these game-changing features that deliver superior results.
Pre-evaluation of a connection
Experience enhanced power management with our modem's pre-evaluation feature. Before connecting and transmitting data, our modem evaluates the estimated power consumption it would most likely use when sending data, and provides valuable insights in the form of estimate categories (Excellent, Good, Normal, Poor, or Bad Conditions) and raw parameters such as radio link quality, RSRP, RSRQ, SNR, CE level, TX Power, repetitions, pathloss, and more. By analyzing the radio environment on the downlink of a cell, your application can decide whether to send data to ensures energy efficiency in data transmission. This is available through the LTE Link Controller library or via the AT Command %CONEVAL, and more details on how to use this is described in the Energy Estimate guideline.
Country-specific search optimization
Make network selection seamless when moving to a new area or deploying cellular devices to a new location with our country-specific search optimization. Our modem enables faster network selection by storing essential information like Mobile Country Code, Bands, Radio Frequency Channel Number, and LTE-M/NB-IoT in a prioritized list. Using our Nordic-proprietary %XCOUNTRYDATA command, you can configure country-specific search parameters, which accelerate network selection in unfamiliar locations. If necessary, our modem will perform full searches to ensure service availability. Rest assured, our feature complies with 3GPP network selection rules defined in 3GPP TS 23.122, ensuring a reliable and efficient network connection.
Modem domain event notification
Stay in control of your modem's performance with our comprehensive modem domain event notification feature. Receive timely alerts for crucial events such as "SEARCH STATUS 1," "SEARCH STATUS 2," "RESET LOOP," "ME OVERHEATED," and "ME BATTERY LOW." These notifications play a vital role in decision-making, especially after a "Light search" (SEARCH STATUS 1), where the modem utilizes intelligent network selection algorithms. With these notifications, you can optimize power consumption, prevent overheating, and ensure uninterrupted connectivity. Gain valuable insights into your modem's behavior and make informed choices with our modem domain event notification feature either through the LTE link Controller library or AT Command %MDMEV.
SoftSIM support
The nRF91 Series supports SoftSIM, a software-based SIM solution provided by Onomondo, securely running on the application processor. This innovative technology brings numerous benefits, including cost savings by reducing SIM and bill-of-materials (BoM) expenses, simplifying the design process, and lowering power consumption. With SoftSIM, the need for physical SIM cards and SIM sockets is eliminated, resulting in a streamlined and compact end-product design. For more detailed information, please refer to the news release associated with this collaboration.