At Nordic Semiconductor we believe that value creation is not only generated through serving our customers but also from managing and holding ourselves accountable for the impact our business has on the surrounding environment and society. This includes human rights and decent working conditions.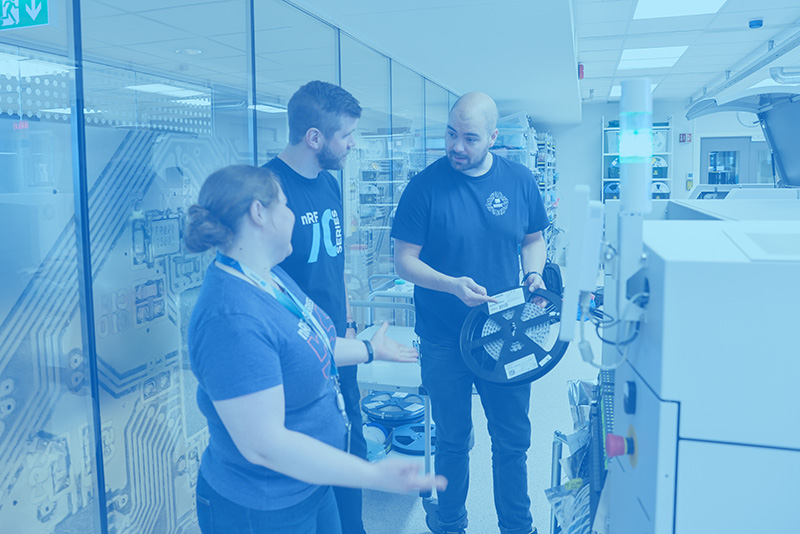 Our commitments
At Nordic Semiconductor we believe that technology shall be developed and produced in a sustainable and ethical manner, but also be used for the good of humanity. As a global fabless semiconductor company bringing together best in class-expertise from across the globe, we firmly believe that our people are our greatest asset and that they shall be treated with dignity and respect. This means that from our initial design and prototype production, to supply chain manufacturing and distribution - human- and labor rights shall be at the core of how we treat our employees and conduct our business.
Nordic Semiconductor has made a commitment to conduct business in a way that respect and support internationally proclaimed human and labor rights such as the United Global Compact, the United Nations Guiding Principles on Business and Human Rights, the OECD Guidelines for Multinational Enterprises, the International Bill of Rights and the core conventions of the International Labor Organization (ILO). As a member of Responsible Business Alliance (RBA), we are committed to adhere to the responsible business standards of the RBA Code of Conduct. In addition, we perform human rights due diligence in our supply chain in compliance with the Norwegian Transparency Act (Åpenhetsloven).
How we work with human and labor rights
To ensure the operationalization of our commitment to respect and support human and labor rights, Nordic Semiconductor has implemented a human rights program as part of our compliance framework, inspired by the iterative six-step process outlined in the OECD´s Guidelines for Multinational Enterprises. This entails: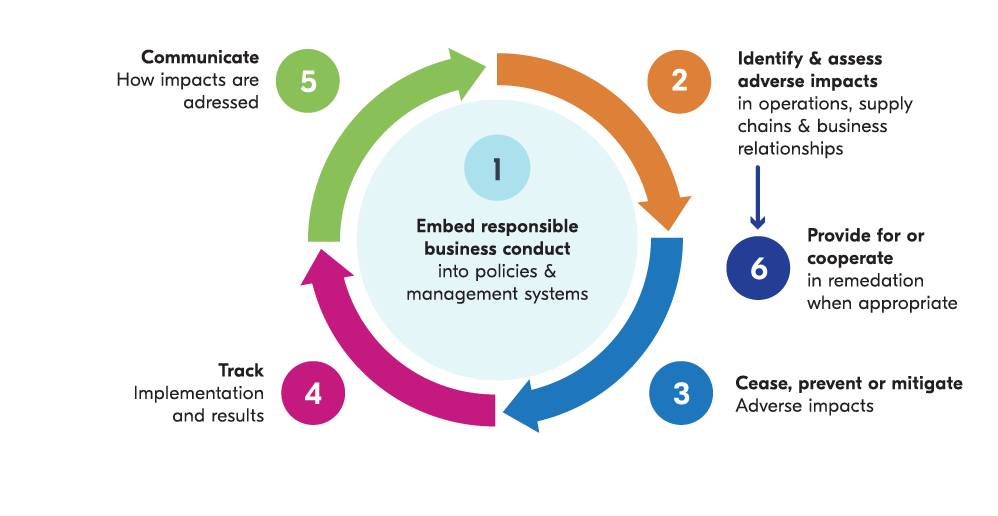 1: Anchoring of commitment
The Board of Directors, mainly through the Audit Committee, provides oversight of Nordic's work to ensure respect of and support to human and labor rights. Our commitment is reflected in our CSR policy. Our human rights program is managed by the Legal & Compliance function. We are continuously working to ensure that our commitment is operationalized through relevant measures implemented throughout our business functions.
Going forward: Our focus for 2023 will be to continue strengthening our governing framework by implementing new but also reviewing existing processes to ensure that these adequately mitigate risks of negative impact on human rights and decent working conditions throughout our global operations.


2: Identifying and assessing risks and impacts
In 2022 we started our journey to develop a tool and to execute high-level assessments of our own operations and our value chain to identify where human rights and labor rights risks are most likely to be present and most significant based on country and industry risk data. Significant risk categories are thereafter prioritized for in-depth risk assessments, to identify and assess potential adverse impacts and mitigating measures.
We have conducted a high-level risk assessment of our value chain against sector/industry information and identified: 3 inherent high-risk categories, 8 inherent medium risk categories, and 6 inherent low-risk categories. By applying a risk-based approach, we have prioritized the three high-risk categories for further in-depth risk assessments as these include companies that are directly connected to our core business operations: manufacturing (including foundries, test and assembly). Production & testing and electronic equipment.
The three categories consisted of 118 companies spread over 20 countries. We are in the process of gathering information and assessing their risk and whether there is a need for mitigating measures. We have so far, through self-assessment questionnaires and RBA audits, identified the following significant risks and impact that will be given particular focus to see to which extent, if any, are connected in relation to the execution of our business and if it has negatively affected stakeholders: -lack of right to collective bargaining, - excessive overtime, - risks related to migrant workers; and -weaknesses in control measures.
The identified risks and impacts may be subject to change as we continue to conduct our in-depth risk assessment. Yet, it provides a direction for where we should target our efforts to promote, respect, and support human rights and decent working conditions in our own business operations and value chain.
The above mentioned assessments are complemented by our regular integrity due diligence (risk-based background checks) of potential and existing business partners before entering into- or renewing a contractual relationship so that we can evaluate whether a business partner meets our compliance and business integrity standards, including human rights and decent working conditions, and whether these risks or concerns can be adequately mitigated.
We also utilize whistleblowing reports submitted through our whistleblowing channel to identify potential risks and actual impacts of grievances.
Reporting on human- and labor rights risks is an integrated part of our Enterprise Risk Management process which is subject to a bi-annual review.
Going forward: We will continue to assess prioritized companies for risks and impacts, analyzing the effects that our business activities have on rights-holders such as workers, local community members and customers, and implement relevant mitigating measures.


3: Stop, prevent or mitigate adverse effects
As a fabless company, our exposure to human rights and labor rights issues is relatively lower in our own operations, but greater when it comes to our supply chain. Supply chains for manufacturing of technological products, especially sourcing of raw materials, tend to be complex and fragmented which leads to limited traceability and transparency, and in turn, increases the risk of human- and labor rights violations.
To prevent adverse impacts in our supply chain on human rights and decent working conditions, we cascade our own expectations and commitments by requiring that all suppliers involved in the manufacturing process of Nordic Semiconductor´s products, including sourcing of raw materials, manufacturing of product components, assembly, testing, packaging, storing, and delivery, or that provide services to or on behalf of Nordic Semiconductor, comply with the RBA Supplier Code of Conduct. As of today, all our direct suppliers have their own documented corporate social responsibility policy including adherence to RBA Code of Conduct, with commitment to communicate this to next tier suppliers. Nordic Semiconductor is also committed to source minerals only from conflict-free smelters within the DRC and covered countries.
Going forward: We will continue to build capacity and competency in human rights due diligence and engage with relevant stakeholders. Additionally, we will implement an enhanced integrity due diligence screening system to support our efforts.


4: Monitor implementation and results
Nordic Semiconductor conducts monitoring of suppliers as detailed in step 3. Gaps and weaknesses identified during self-assessment questionnaires, integrity due diligence, audits carried out either by RBA or an independent third-party auditor, and impact assessments are addressed through action plans with targeted mitigating/preventive measures. We demand prompt remedial action where violations have been identified. A key part of the monitoring is follow-up audits to ensure that improvements have been effectively implemented and identified gaps have been closed. Implementation and effectiveness of measures and remedial actions are closely followed up by responsible business function.
Going forward: We will continue to assess the need for mitigating measures, monitor implemented measures, and asses their efficiency to address identified risk or impact so that we can learn from what works, continuously improving our systems and processes. build capacity and competency in human rights due diligence and engage with relevant stakeholders.


5: Communicate how the impact is handled
Nordic Semiconductor is committed to provide information on how we work to respect and support labor and human rights in our Annual Report and/or otherwise made publicly available on our website. Additionally, we have also established a way for the public to contact us and a process for handling information requests on how we conduct human rights due diligence and our findings/results.
Stakeholder engagement is a key part of Nordic Semiconductor's human rights due diligence work. We seek to actively communicate with employee representative bodies as an extension of our efforts to improve respect for human rights and working conditions. We will continue to engage with global stakeholders to foster a culture of respect for human rights, not only in our business, but also in our industry. When developing policies and training programs, as well as during our due diligence process, we collaborate with organizations and agencies specialized in human rights. We also participate in various multilateral initiatives such as the Responsible Business Alliance and UN Global Compact.
Going forward: We will continue to raise awareness amongst our employees of our commitments, human rights and labor rights issues, and our actions to reduce the risk for actual negative impacts.


6: Enable remediation and compensation where required (Access to remedy)
Nordic Semiconductor is committed to provide effective remediation where we have caused or contributed to adverse human rights impacts. Where we find impacts directly linked to our business relationships, we will use our influence to encourage suppliers or business partners to cease, prevent, or mitigate adverse impacts on human rights.
Nordic Semiconductor operates a whistleblowing channel that allows for anonymous reporting. All employees have been informed of the whistleblowing channel, where to access it and what should be reported, during their onboarding and through our Code of Conduct training sessions. We also allow for reporting from external stakeholders. Anyone can raise a formal complaint and shall not as a result be discriminated against or face retaliation. We seek to ensure the process is transparent and that the rights of those involved are respected at all steps of the process. Nordic Semiconductor does not tolerate retaliation against anyone who speaks up in good faith, and all reported grievances and violations are managed with strict confidentiality.
Going forward: We are developing a new grievance remediation process, that will be combined with our existing whistleblower process, supported through a new reporting- and case management system, which will aid us in streamlining our process and response to a greater extent.


Contact us
If you have questions or concerns about how we are managing actual or potential human rights impacts across our organization or supply chain, please submit your request through this link: [email protected]