Global and regulatory certifications
The map below shows completed and ongoing regulatory certifications for the nRF9160 Revision 2 (SIxA-B1) all over the world.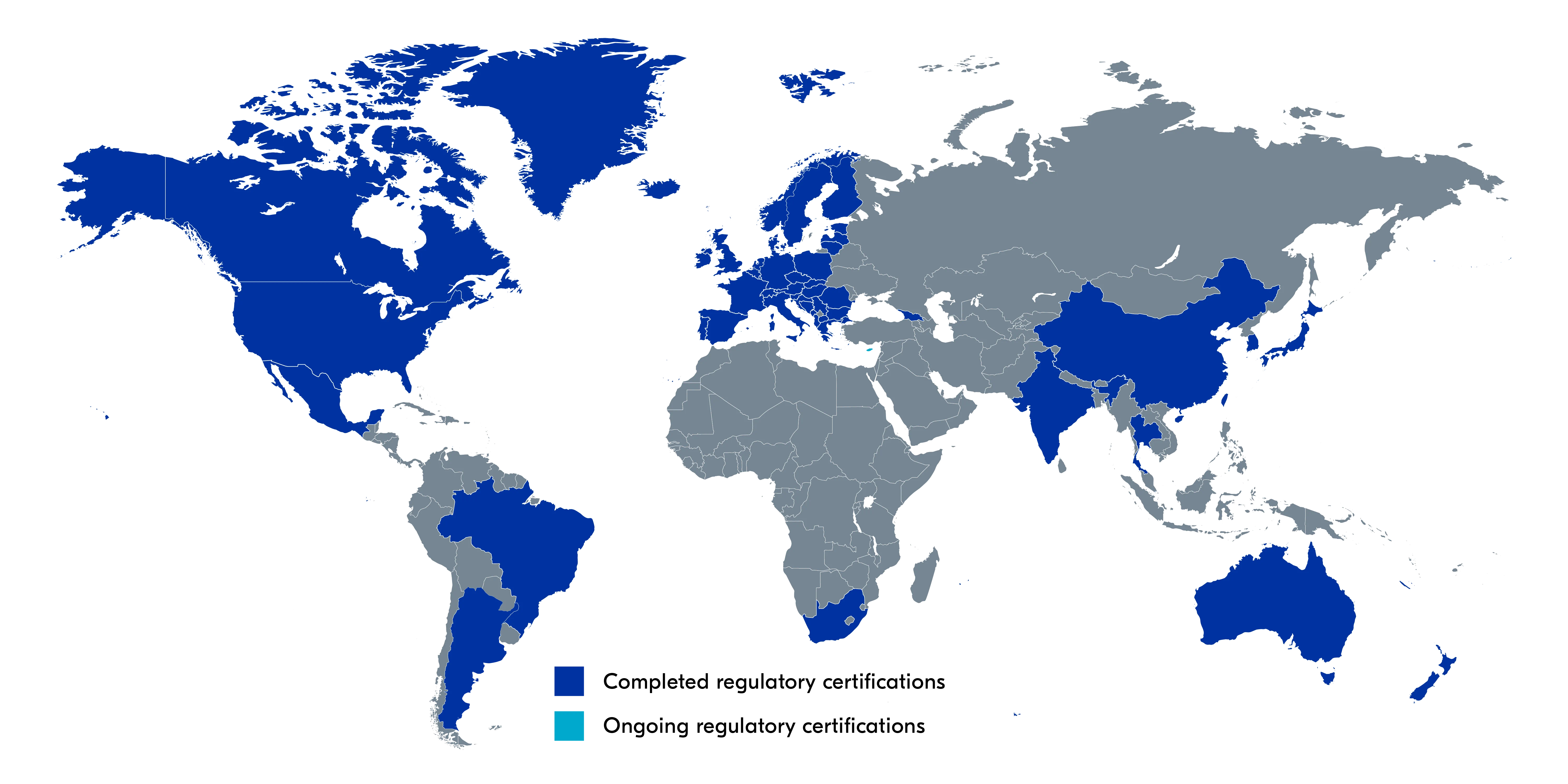 The table below gives an overview of all global (GCF, PTCRB) and regulatory certifications the nRF9160 have for the different LTE bands, for both LTE-M and NB-IoT. A colored square means the certification is completed, while a more transparent square means it's ongoing. If you are after the actual certificates, please scroll further down.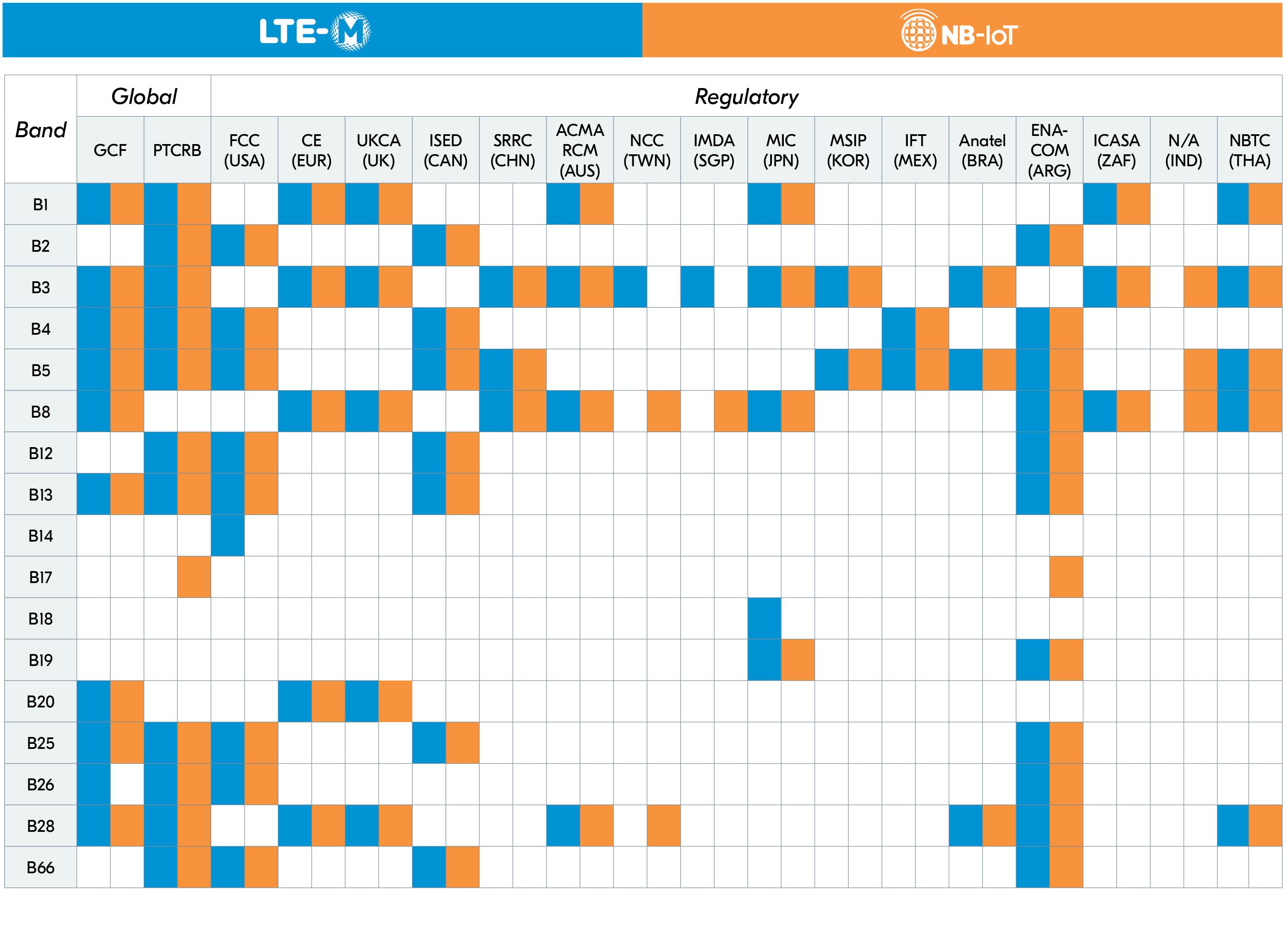 Please look here for nRF9160 Revision 1 (SIxA-B0) global and regulatory certifications.
FCC (United States)
IMDA (Singapore)
MIC (Japan)
Japan's TELEC regulatory approval requires the use of antennas with less than 3 dBi gain in any direction. This is a non-exhaustive list of antennas we expect to meet that requirement. Please follow the reference design from the antenna vendor.
No.
Manufacturer
Model No.
Freq.
Peak Gain
Connection
1
Antenova
SR4L002
698 – 798 MHz
824 – 960MHz
1710 – 2170 MHz
2,5dBi
SMD
2
Antenova
SRFC015
824-960MHz
1710-1990MHz
2110-2170MHz
2,5dBi
SMD
3
Johanson technology
0830AT54A2200
700-800MHz
824-960MHz
1700-2100MHz
1710-2690MHz
2dBi
SMD
4
Siretta
Delta 1A
850,900,1800MHz
1900MHz
2100MHz
2dBi
SMA male
5
Siretta
Echo 40
790-960MHz
1710-2170MHz
2dBi
u.FL plug
6
STAF
T16-062-1015
814-960MHz
1428-2690MHz
3dBi
u.FL plug
7
STAF
T16-062-1022
814-960MHz
1428-2690MHz
3dBi
u.FL plug
8
STAF
T16-062-1023
814-960MHz
1428-2690MHz
3dBi
MHF plug
9
STAF
T16-062-1016
814-960MHz
1428-2690MHz
3dBi
MHF4L
10
STAF
T16-062-1025
814-960MHz
1428-2690MHz
3dBi
MHF plug
11
STAF
T16-062-1024
814-960MHz
1428-2690MHz
3dBi
MHF4L
12
STAF
T18-018-1098
1575.42-2170MHz
1428-2690MHz
3dBi
Solder
13
STAF
T17-058-1069
689-960MHz
1428-2700MHz
3dBi
SMA-P
14
STAF
T17-058-1069
698-960MHz
1428-2700MHz
3dBi
SMA-P
15
STAF
13-023
815-960MHz
1428-2170MHz
3dBi
u.FL plug
16
STAF
T13-023-1001
815-960MHz
1428-2170MHz
3dBi
MHF4L
17
Unictron
CC26DH
824-960MHz
1710-2170MHz
2.4dBi
SMD
18
Unictron
CC40D7
824-960MHz
1710-2170MHz
2.9dBi
SMD
19
Unictron
CC26DV
824-960MHz
1710-2170MHz
2.2dBi
SMD
20
Unictron
AA880
824-960MHz
1710-2170MHz
2.8dBi
SMD
21
LS Mtron Co. Ltd.
LS01-I-19001-A0
814MHz~930MHz
1710MHz 2170MHz
0,38dBi
Spring Contact
22
TAOGLAS
GA.111.101111
698~960MHz/
1710~2700MHz
1,89dBi
SMA(M)
23
TAOGLAS
MGA1.101111
698~960MHz/
1710~2700MHz
1,57dBi
SMA (M)
24
TAOGLAS
PA.700.J
700~2600MHz
2,7dBi
SMA-Female
25
TAOGLAS
TG.08.0113
698 to 960MHz, 1561MHz,
1575.42MHz, 1602MHz, 1710 to 2700MHz.
0,94dBi
SMA(M)
26
TAOGLAS
TG.10.0113
698MHz to 960MHz, 1710MHz to 2690Mhz
1,3dBi
Hinged SMA(M)
27
TAOGLAS
TG.10R.A.0113
700~800
824~960
1575.42
1710 ~ 1880
1850 ~ 1990
1710 ~ 2170
2,5dBi
Hinged SMA(M)
28
TAOGLAS
TL.10.1HH11W
698MHz to 960MHz, 1575.42MHz,
1710MHz to 2700Mhz
1,7dBi
NMO
29
Ethertronics
P822601
698-960 MHz

see the Antenna usage declaration
2.6 dBi

SMD
30
Ignion (previous "Fractus Antennas")
FR01-S4-210

698-960 MHz
1710-2690 MHz
1.1 dBi
2.4 dBi
SMD
31
Ethertronics
P822601/P822602
690-810 MHz
815-960 MHz
1710-2200 MHz

1.56 dBi
2.7 dBi
3.0 dBi
SMD
32
LS Mtron Co. Ltd
Braveridge AB Tracker (LS01-I-20013-A0)
814-960 MHz
1710-2170 MHz
1.55 dBi
2.46 dBi
Spring Contact
33
ANWEI Communications-equipment Co., Ltd.
W585

814-960 MHz
1710-2170 MHz

3 dBi

Spring Contact

34
Unictron Technology

WC35D1
824-960 MHz
1710-2170 MHz

3 dBi

IPEX
35
Sunnyway Technology

SWE002
824-960 MHz
1710-2690 MHz

3 dBi

SMA (M)

MSIP (South Korea)